Where Have All the Houses Gone?
In today's housing market, it seems harder than ever to find a home to buy in the Raleigh Durham area and beyond. Before the health crisis hit us a year ago, there was already a shortage of homes for sale. When many homeowners delayed their plans to sell at the same time that more buyers aimed to take advantage of record-low mortgage rates and purchase a home, housing inventory dropped even further. Experts consider this to be the biggest challenge facing an otherwise hot market while buyers continue to compete for homes. As Danielle Hale, Chief Economist at realtor.com, explains:
"With buyers active in the market and seller participation lagging, homes are selling quickly andthe total number available for sale at any point in time continues to drop lower. In January as a whole, the number of for sale homes dropped below 600,000."
Every month, realtor.com releases new data showing the year-over-year change in inventory of existing homes for sale. As you can see in the map below, nationwide, inventory is 42.6% lower than it was at this time last year: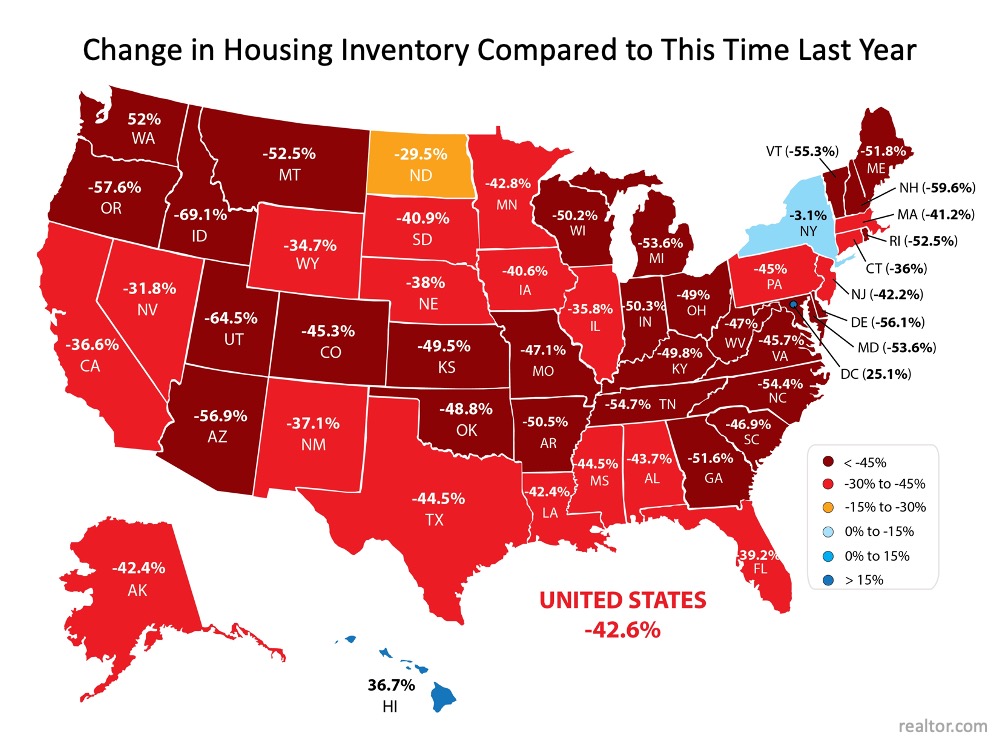 Does this mean houses aren't being put on the market for sale?
Not exactly. While there are fewer existing homes being listed right now, many homes are simply selling faster than they're being counted as current inventory. The market is that competitive! It's like when everyone was trying to find toilet paper to buy last spring and it was flying off the shelves faster than it could be stocked in the stores. That's what's happening in the housing market: homes are being listed for sale, but not at a rate that can keep up with heavy demand from competitive buyers. In the Raleigh Durham real estate market, it's common for a home to only stay active for 2 or 3 days and sell over asking price with multiple offers. We have seen some homes receive over 30 offers!
In the same realtor.com report, Hale explains:
"Time on the market was 10 days faster than last year meaning that buyers still have to make decisions quickly in order to be successful. Today's buyers have many tools to help them do that, including the ability to be notified as soon as homes meeting their search criteria hit the market. By tailoring search and notifications to the homes that are a solid match, buyers can act quickly and compete successfully in this faster-paced housing market."
The Good News for Homeowners
The health crisis has been a major reason why potential sellers have held off this long, but as vaccines become more widely available, homeowners will start making their moves. Ali Wolf, Chief Economist at Zonda, confirms:
"Some people will feel comfortable listing their home during the first half of 2021. Others will want to wait until the vaccines are widely distributed."
With more homeowners getting ready to sell later this year, putting your house on the market sooner rather than later is the best way to make sure your listing shines brighter than the rest.
When you're ready to sell your house, you'll likely want it to sell as quickly as possible, for the best price, and with little to no hassle. If you're looking for these selling conditions, you'll find them in today's market. When demand is high and inventory is low, sellers have the ability to create optimal terms and timelines for the sale, making now an exceptional time to move.
Bottom Line
Today's housing market is a big win for sellers, but these conditions won't last forever. If you're in a position to sell your house now, you may not want to wait for your neighbors to do the same. Let's connect to discuss how to sell your house safely so you're able to benefit from today's high demand and low inventory. We would be honored to be your Raleigh Durham realtors!
Are you connected with us on social media? We are most active on Instagram and we'd love you to be part of our world over there! You can find us on social media using @thehoneycuttrealtors
Until next time, have an awesome day!
Zach & Cindi Honeycutt, Realtors, Movil Realty, 919-730-0777
https://honeycuttrealtors.com/wp-content/uploads/2021/02/20210222-KCM-Share.jpg
410
750
Cindi Honeycutt
http://honeycuttrealtors.com/wp-content/uploads/2017/08/honeycutt-team.png
Cindi Honeycutt
2021-02-25 14:52:01
2021-02-25 14:55:02
Where Did All the Houses Go? Raleigh Durham Real Estate Update!